My new book has come out this week: Group Theory in the Bedroom, and Other Mathematical Diversions, Hill and Wang, xi+269 pages, $25. ISBN-10: 0-8090-5219-9, ISBN-13: 978-0-8090-5219-9, Library of Congress Call Number: T185.H39 2008.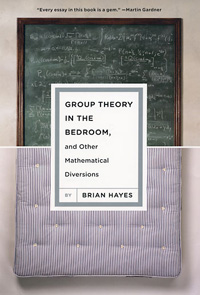 This is a collection of essays on themes that will be familiar to many readers of bit-player.org. Indeed, the essays themselves may be familiar! Eleven of the twelve essays appeared earlier as "Computing Science" columns in American Scientist; the twelfth was published in The Sciences. But there is some new material: Appended to each chapter is an "Afterthoughts" section where I confess to errors, castigate critics, bring outmoded notions up to date, and generally try to offer readers some excuse for selling them a $25 book, when they could find most of the content free on the web.
The book has its own handsome web site (I was lucky to snap up the domain name "grouptheoryinthebedroom.com" before some speculator squatted on it). I cordially invite all of you to go over there and have a look around. Meanwhile, back here at bit-player HQ, I'm going to throw myself a little party. See you in a day or two.

   'Tis pleasant, sure, to see one's name in print;
    A book's a book, although there's nothing in't.
                                      —Lord Byron