Before I put my toys away, here are two more views of continental divides. First, a broader look at North America, seeing it as more than a bicoastal continent. The southernmost incursion of the Arctic watershed is in the Red River valley, along the Minnesota-Dakota border.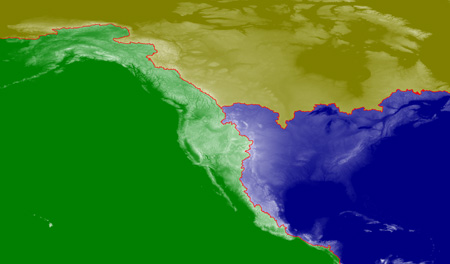 The map is based on NGDC data with 2-arc-minute resolution. Here's a detail of the triple junction point: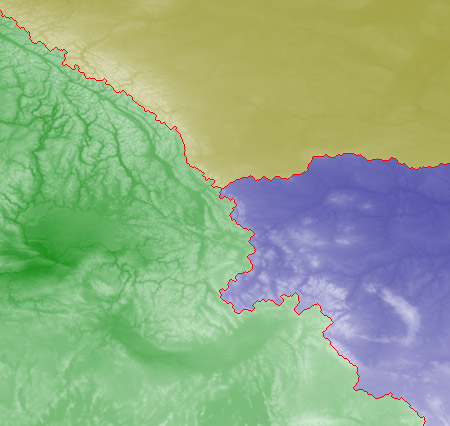 The calculated location of the 'Y' seems to correspond quite closely to Triple Divide Peak, in Glacier National Park in northwestern Montana. (The three streams flowing away from this peak are Atlantic Creek, Pacific Creek and Hudson Bay Creek.)
Second, I've done Europe, shown below in views before and after the flood. (For these maps I've done some terraforming, plugging up the Straits of Gibraltar and the Bosporus and erecting a barricade between the Atlantic and the North Sea. The base map is at 1-arc-second resolution.)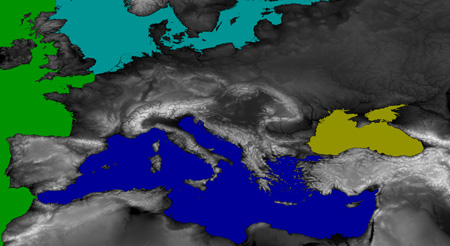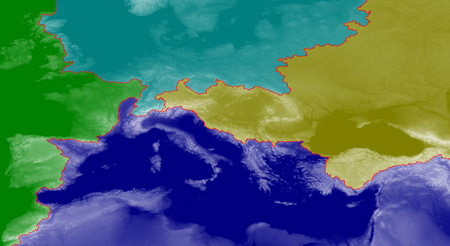 Finally, below, here's a detail of the Alpine region where waters diverge toward all four points of the compass.