"Between The Folds" uncovers the stories of ten fine artists and intrepid theoretical scientists who abandoned careers and scoffed at hard-earned graduate degrees—all to forge unconventional lives as modern-day paperfolders.
Perhaps such a film should be kept from impressionable youth, lest more degree-scoffers be lost to a life in the creases. Nevertheless, the one-hour documentary, written and directed by Vanessa Gould, is showing online this weekend, today through Sunday only, in connection with the Hamptons International Film Festival. Several of the featured folders come from the world of science and math: Robert Lang, Tom Hull, Erik Demaine, and Erik's father Martin Demaine.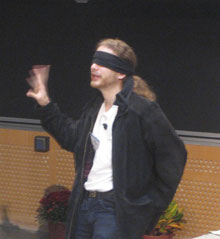 If you'd like still more cinematic experience of Erik Demaine, his recent talk at the opening symposium for the Microsoft New England research center is now online, where he performs magic tricks as well as showing off origami. (But the video is in a Windows-only format—what's with that?)
At right Erik makes a hand-waving argument while blindfolded.
Thanks to Barry and Ros for tips on these items.