The banner image at the top of this page might be taken for an algorithmic attempt to imitate a fern, although in my opinion the pattern bears a closer resemblance to the two-dimensional corals known as sea fans, or gorgonians. The image below also reminds me of some sort of sessile sea creature—if not a sea fan, then maybe a crinoid.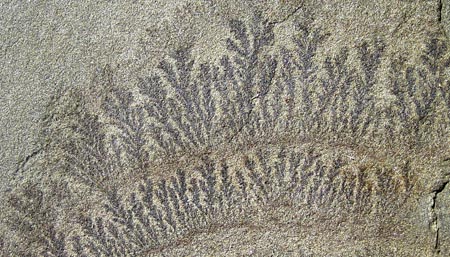 I discovered this pattern (and several others like it) in the flagstones of a newly laid sidewalk on the campus of Duke University, and I assumed I was looking at a fossil of some kind. However, a helpful and erudite construction worker, who noticed me taking photographs, stopped to tell me that such patterns are of inorganic origin; they are produced by a mineral stain (probably an iron compound) propagating through the pores of the rock. This explanation makes the resemblance to my banner image somewhat more interesting and less of a coincidence. The banner pattern is generated by an algorithm called diffusion-limited aggregation, in which particles move randomly until they happen to touch the tendrils of the growing aggregate; then they stick fast. It's not hard to imagine how molecules migrating through rock might behave in a similar way, but I have been unable to learn anything more about the origin of these flagstone false fossils. I'll be grateful if anyone can enlighten me.
Update 2006-08-07: A helpful reader (see comment below, and thankyou Frank Horowitz) has provided exactly the clue I was seeking. Searching for "dentritic patterns" in combination with various other terms turns up lots of relevant references. The one closest to the mark is a splendid discussion by Jonathan Wonham in a blog called Connaissances. There's also the fascinating story of Mochaware pottery.
Update 2006-08-09: I am deeply grateful to Florian Walchak, who points out (in the comment below) that the question I raised had been answered 300 years ago!
Update 2006-12-06: Further commentary and links.